THE JERRY SPIDER GANG

Lo'Spider (vox, guit)
Mars (drums)
Mighty Yo (bass, bkg vox)
Speedy (guit)

THE MAGNETIX

Aggy Sonora (drums))
Looch Vibrato (vox, guit)
25.12 BERLIN - Wild at Heart
After 1800km and sleeping in the van for three of us, it's good to finally arrive in Berlin. 7PM and it's already nightime for three hours... & it's fuckin' cold here.
The club is closed so we go for a drink in a "typical Berlin" bar, very kitsch with baroque paintings, angels, grapes etc ! Ulli from the WaH welcome us and tells us that two days ago we couldn't have reach Berlin as it was snowing really hard. Consequence : 69 HARD, a swedish band we should have played with tonight couldn't possibly take the ferry... No problems, the MAGNETIX are ready to rock !
The Wild at Heart is a great club in Kreuzberg, the "punk and junkies" (as it's still mentionned in the guides) district of Berlin. It's like an Ali Baba cavern, with oil-lamps, hawaďan-Elvis tikis, Kozik's posters and 50's tattoo-style paintings. There's a gig almost everyday and it looks like every good band on this planet's rocked this place.
The show is just ok !, it's tuesday night, right after the x-mas eve and everybody feels a little "heavy".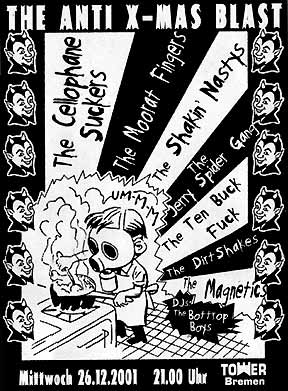 26.12 BREMEN - Tower
Before leaving Berlin, Speedy guides us thru the streets for some historical visit : the 300 remaining meters of wall, the Brandeburg door and the Reichstag...
We are very excited as tonight it's a festival with all the German bands we dig : the CELLOPHANE SUCKERS, the MOORAT FINGERS, the TEN BUCK FUCK.
The five hour drive is hazardous as we are not very used to drive under an uninterrupted snow. We finally found the Tower, a big club in the center of Bremen. There are two stairs and two stages. The club is like a ghost train with a fake gothic décor, spiders everywhere... We feel like home !
Gax, the singer of the MOORAT FINGERS and promoter of the show welcomes us and describes the program of the night... The MAGNETIX feel a little bit disenchanted as they must play last after 7 bands. The place is half-packed when the DIRTSHAKES begins. They are an emanation of the JET BUMPERS and plays a mix of garage and power-pop ; half originals, half covers, but first choice : ZEROS, FUN THINGS, CHOCOLATE WATCHBAND, BUZZCOCKS... The perfect band to begin the night. We have to play second. The audience seems to like it but at the end, at least 10 people come to me to ask the name of the band... Did I forget to mention it ? Fuckin' professionalism ! I trade a CELLOPHANE SUCKERS' T-shirt with Markus their singer right before he jumps on stage. The sound is powerful, the songs are great. I like the records of this band, but live it's even better. They play more "steady" and Markus is a great singer, moving like a mix of Joey Ramone, Stiv Bators and Nijinsky (?!). I'am just a little bit disappointed with their cover of DEAD BOYS' "All this and more"... But their lead-guit has got cramps. Fuckin' professionalism ! I grant myself a pause and I go upstairs to see what happen and try to find some dope (heuuuuuu !).
It's the garage room, Cpt BEEFHEART, the SEEDS, Love, Rythm & Blues tunes... But it's also packed. The only fresh air is outside, but it's like minus 10°C.
The MOORAT FINGERS hit the stage. The sound is even more powerful than for the other bands... the bass sound is enormous (too ?). They seem to have a big following in their hometown and the concert is a real bliss for the band. They play short, tight punk tunes with somewhere a 50's influence. Their guitar player, Tim is no stranger to this fact with his Gretsch and rockabilly style. Gax is dressed like a doctor with soldering-glasses. He reminds me a little bit of Hank from TURBONEGRO but not so fat and perverse ! At the end of the show, the drummer takes half of his kit and go upstairs where he plays with the SHAKIN' NASTYS, a garage band with a touch of MODERN LOVERS. The ex-bass player of the MOORAT FINGERS is also playing in the band, 4 strings : 3 on the axe, 1 in his throat. Now it's getting harsher as we get very drunk... -instead of drinking beers with our free tickets, we went for whiskey tonight...-
The TEN BUCK FUCK play a good show but I can't stop complaining after the singer acting like Eric from the NEW BOMB TURKS. How an asshole can I be sometimes !
The MAGNETIX have to play but nobody takes care of them and no-amplifier is switched-on... Tension is increasing, but it's good for the show. I like when Looch is going crazy :"Hey People, you like punk rock ? - Yeahhhhhhhhhhhhhhhhhhhhh ! - Good ! We don't play punk-rock !" & it goes for 1/2 an hour of distorted-out of tune guitar. the audience is terrified and half of the room leave the place quickly. Tim is laughing, and I try to manage the distotion pedal, sat-down on a chair near the stage, the pedal in one hand and a Jägermeister bottle in the other one. Electric chaos !
We pack our gears and go sleep to Tim's house, a big three stairs appartments in a victorian neighborhood.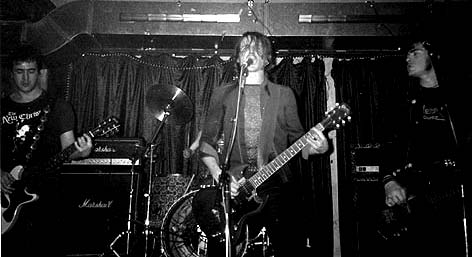 27.12 KÔLN - Sonic Ballroom
It all begins with a rude argument while still in the sleeping-bag... Not the best way to begin another long day with a terrible hangover ! But we are late. No washing, no eating... We take the road to Köln. It's only 300km from Bremen but it snowed all night long... 50km before Köln we are caught in a major traffic jam. We have to play at 9pm and we don't know if we can be on time as the situation seems inextricable. Three hours later, the cars move slowly and then faster and faster and faster... We still don't understand why we were stuck so long ! We arrive at the Sonic Ballroom 20mn before the show. The MAGNETIX can't play tonight. Too bad ! Not so many people, around 25 but good ones, ready to shake their asses & scream. The promoter explain me that there are 2 other concerts in the same area. We are happy cause the gig was great tonight. Time to eat... The best lasagna I've ever eaten. I can't believe the drunk-punk in front of me prepared this delicious meal... What I'm certain is that he ate only liquids tonight. Some of us go to sleep early after last night and the other try to sympathize with the local bunch... Very strange crowd in fact : one italian, founder of the Köln Turbojugend chapter (just in the afternoon, he painted a big Turbonegro logo on his leather jacket !), a spanish-german guy, a german one who speaks french with the same accent as me (he lived 8 years in Toulouse) and another one who's got family in Paris and who's in love with Aix-en-Provence in the south-east (plus the one who lived 10 years in L.A. but can't speak a word of english, etc.)...
After 5 or 6 Jagermeister all this is surrealistic !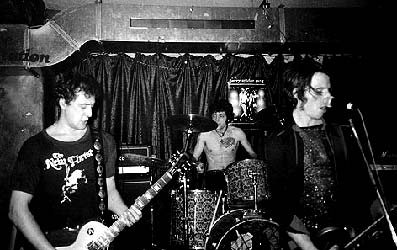 28.12 KASSEL - Die Haus
The shortest trip of the tour and it's good after yesterday's drive. We arrive early in Kassel and the Haus is closed. We decide to go directly to Blacksnake's house.
He's the singer of KING KHAN & HIS SHRINES (the best rythm & blues act you can see on this earth) and used to play the bass in the SPACESHITS. That's a few years he lives in Germany with his wife and their baby. The MAGNETIX are good friends of him (... and soon part of the Kukamonga tribe !). He 's really surprised when we ring at his door as he completely forgot which day we are. But it takes him only a mn to realise. He offers us some beers and human warmth... So nice guy ! We have a great rest listenning to good music (the CHANTS on Corduroy rds, the last REVEREND BEATMAN) and watching the "totally-lysergic" Disney comix "3 caballeros". We also meet a part of his family from Canada, among whom Saba who plays in the DEL GATORS -an album on Sympathy- with her companion Oily Chi -also an ex-SPACESHITS-... We feel real good, and even better after tasting the local pot, but it's time to go to the Haus to meet Till (guitar player of the SHRINES and promoter of the concert) and the YUCCA SPIDERS with whom we play tonight.
Die Haus is a squatt-house where the band practices. Till do as many show as he can in total illegality... THE man ! After eating excellent home-made pizzas, some of us go to buy cigarettes... "such common thing ?!" Well when they come back Speedy was laughing like a madman and Yo got a hole on his brand new trouser..."Just in front of the bar there was a whore in a window & of course I was lookin' at her, & I slide on a ice sheet and cut my jeans / I've never seen a naked woman laughing like that !".
About 70 people shows up tonight and the room is full. Gregor from Sound of Subterrania is here and told me the last hilarious stories about El GUAPO STUNTTEAM, a wild trash belgian band, banned from almost all the german venues !!! They recorded their last release with a SCORPION's engineer !!!
Everybody's smiling and dancing. The MAGNETIX play their best show and the YUCCA SPIDERS are really convincing in their crampsified garage rock, even if their covers are not very original ("Fever", "I can only give you everything", "Viva Las Vegas"...) except a 60's version of KISS' "Rock & Roll all nite". The atmosphere is very hot when we play and the audience very supportive... We have to be carefull for our teeth as mikes fly ! Mission accomplished. Later we go to Till's bar, Mutter for a last drink.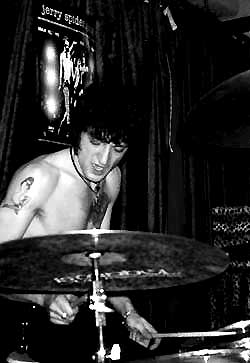 29.12 DRESDEN - Groove Station
Today we must go east and we are anxious about the weather and the road conditions. But everybody told us the Groove Station is an amazing club. We decide to go and after 6 days here we think we know how to drive on the snow ! the road is ok. We stop for our daily sausage -in every gas station you can eat this ; & it's the cheapest thing you can buy- and beer. As in Berlin the night comes really early. Too bad as Dresden seems to be a fuckin' nice city, with old houses, paved streets, tramways... The Groove Station is a dream-club : It all began as a laundry and then became a bar, a billiard room, a restaurant, a bed & breakfast and a cyber café. The photos in the bar are eloquent : the NOMADS, the ZEROS, the GROOVIE GHOULIES, the SILVER TONGUED DEVIL ... People here know what is rock & roll.
Ulli and friends from the Flying Revolverblatt zine are the promoters of the show. Great people to hang out and party with. Before soundcheck I go to check my e-mails &.... Very sad news as I hear of Lee Robinson death from a cancer. He was the singer of SIN CIRY SIX in Madrid and was a friend of us. Everybody's affected and the only thing we could do tonight is to play good & dedicate the gig to his memory.
The audience is a little bit cold, but the MAGNETIX increase the temperature rapidly.
Then it's our turn. The machine is in excellent shape and everybody plays at his best. It lasts 13 songs before we see the first dancers... We play two encores, try a version of "Rat Fink a Boo-Boo" and finish with "Rock & Roll Resurrection"... Great nite !
After that, there's an excellent Dj mixing all kinds of rock & roll from BUDDY HOLLY to TURBONEGRO thru the SHANGRI-LAS, the PAGANS, the HIVES...
Crazy dancers & heavy drinkers !
30.12 Back home
After 400km we stop in a gas station to find our way. An hour before we heard a strange noise and we thought it was the brakes. In fact the hub of the front left wheel is totally desintegrated and it's very lucky we had no accident. We call the euro-assistance... 4 hours later they find us a car... Too small for all our equipment ! The van can't be fixed until 6 days, we decide to come back to France............... I tell you something, NEVER GIVE UP YOUR EQUIPMENT ! Unless you want to taste deep shit...

We'd like to thank all the people who came see us and especially, Ulli & Léa from the Wild at Heart, Gax and Tim from the MOORAT FINGERS, all the Sonic Ballroom people, Till, Blacksnake, Lil & Sabalu, & Ulli and the Flying Revolverblatt team.
Extra Special thank to the MAGNETIX. Hell'o to Jenz & the DIRTSHAKES, Markus & the CELLOPHANE SUCKERS, the YUCCA SPIDERS...