*
30.10
***************** VIGO
-
La Iguana (Cancelled)
***
We have a long road today (650km) to Galicia, the far-west of Spain. Tonight we should play with the Groovie Ghoulies in one of the best spanish club...
But the promoter of the gig -we ended up calling him Mr asshole-, was very unpredictable on the phone. Anyway we'll go to the club and see what happen ! And... we meet him in front of the bar and he explains us that tonight we can't play as he can't pay us because he lost a lot of money last week and also he couldn't call Aiky back cause he had problems with his phone and...
BLAH, BLAH, BLAH, BLAH, BLAH, BLAH !
In his kindness, he gives us free tickets and Aiky deals free drinks for all the night !
No more than 15 people (and minus the 6 of us it should have been 9 !!!), and they seem to have nothing to deal with the Groovie Ghoulies. The band plays a short set, they throw us some halloween sweets and finish with "Pet Semetary". The dj plays our cover of Turbonegro (on the bonus cd of the tribute Alpha Motherfuckers -sorry for the shitty sound !-). He works in a killer bar not so far from La Iguana, the Hanoï. It's closed tonight but seing our enthusiasm he decides to open it for a last drink. Excellent idea, as it's one of the best place I've seen : good photos, good music, nice people and great décor -I remember this Jesus with a halo of syringes !.
Bélen and her friend invite us to sleep (THANKS a MILLION !)... We buy some beers and have a great talk with them while listenning to their huge collection of vinyls.
******************************************
**********************
THE JERRY SPIDER GANG IN SPAIN
**********************

********************** **********************

* 27.10.2001 ** 03.11.2001 *
* AIKY (MC) *
* LO ' SPIDER (vox, guit.) *
* MARS (drums) *
* MIGHTY YO (bass, bkg vox) *
* OLIVIER (guit.) *
* YOUN (road killer) *

* 27.10 **************
ZARAGOZA - Utopia
+ LAS TUMBITAS
* 28.10 **************
MADRID - Rock Palace
* 30.10 **************
MADRID - Rock Palace
* 31.10 **************
A CORUÑA - Coruña Mardi Gras
* 01.11 **************
VILLADIEGO - Gloria
+ GROOVIE GHOULIES
* 02.11 **************
SAN SEBASTIAN - Bukowsky
* 03.11 **************
BILBAO - Azkena + STINKISS
******************* *******************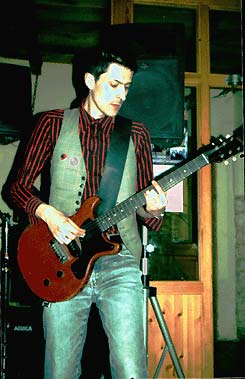 *
27.10
**********************
ZARAGOZA
-
Utopia
***
Headin' from Toulouse to Zaragoza, we reach the Pyrenean mountains, the weather is great and as we cross the border, excitation is at its peak...
We are back in the most rock & roll country in Europe and ready to taste all its vices !
In town we have no idea where is the venue. An old man jumps in the van, not afraid at all by our freaky faces, and guides us to the University from where the Utopia is very near.
Verdu the promoter of the concert shows up a few minutes later and invites us to a drink and an illegal snort !
Las Tumbitas, the band we play with, arrives from Vigo, 600km from Zaragoza. They didn't sleep the night before cause they stopped on the road to party at the Rock Club in Ourense. It's a trio, all dressed in vinyl clothes, who plays powerful garage-rock & roll. The girl behind the drum kit is called Belén and she used to play with the Munster's fame, Las Pussycats.
Good concert for the Gang with its guest-guitar player Olivier, ex-TV Killers and who now plays with the Jakes and the Wonky Monkees in Bordeaux.
After the gig a meal is scheduled but we took so many stuffs that we don't want to eat and prefer go partyin'. We discover another great rock & roll club : Turbonegro, the New Christs, the Dictators... 7AM we decide to go sleeping... NO WAY !
******************************************
*****************
Guest-guitar player OLIVIER
ex-TV KILLERS
THE JAKES
THE WONKY MONKEES

Photos by Aiki in Villadiego
*****************
*
28.10
********************
MADRID
-
Rock Palace
***
Nothing special on the road, it's like any southern desert.
The Rock Palace is owned by Norah (from Sin City 6, ex-Pleasure Fuckers).
They do concerts almost every week-end and rent practice rooms for the madrilan bands. We meet Aiky who book all our shows and who's coming on the road with us (thanks God !).
Tonight it's sunday and the audience is as tired as we are after a loose week-end. We try to do our best but something's not here... Anyway, everybody has a good time and we promise to do better the next time.
Some of us go to Malasaña, the rock & roll barrio of Madrid, the Via Lactea, the Groovie and after a last drink and Detroit Cobras' "Cha-cha twist" we go to bed.
******************************************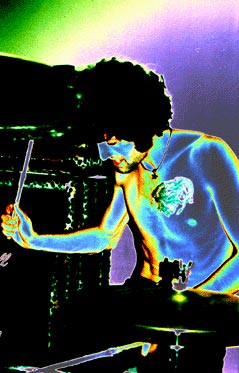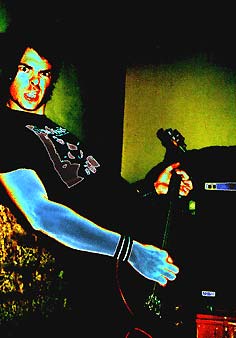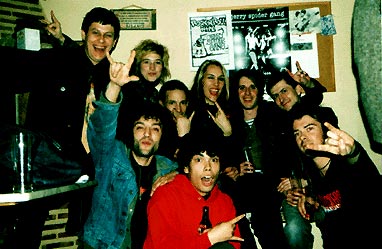 *******************************
THE GROOVIE SPIDER & THE JERRY GHOULIES

Photos by Aiki in Villadiego
*******************************
*
03.11
*********************** BILBAO
-
Azkena
***
Bilbao is very near from San Sebastian and we take time to go to the beach and breath its fresh air. It's the last concert of the tour and we want to do it at 1000%. We're gonna play with the Dead Kamikazes (or the Stinkiss now... I don't know. But do they know themselves ?).
Almost all the Safety Pins except the singer and Aiky. We know we'll have to give our best ! Sala Azkena is in the center of Bilbao. Great venue, with a big stage and a good sound. The backstage are... what can I say, "Professional"... That means with private toilets ! Noooooooo ! It's just we feel cumfortable, with beer and booze and d*** and great friends !
The Stinkiss hit the stage with their tight punk-rock in the vein of Angry Samoans, Lewd, Germs... The audience is great tonight and really supportive for the bands.
We feel tension and excitement in our veins. During our set we feel that something special is hapenning, the alchemy between each member works at its best. We make two encores but we don't want to leave the stage...
We decide to play "Lookin' at You" while we never practice it. No problemo !
It goes like in a dream and after 6' of organized chaos, we finish smiling, sweating and thanking all these wonderful people (How stupid can we be when we are happy !).
We pack our stuff and leave the Azkena, but it's saturday, it's Bilbao and we know that we'll see the sun today ! In the Gasteiz bar, it's a mixed feeling of joy and sadness. I, particulary, don't want to go back home and try to drown my sorrow in the whiskey...
Don't have to tell you that the Gasteiz is another fuckin' bar, with the greatest music you can have and even Radio Birdman's videos !!!
9am we decide to go back home without sleeping... LIGHTS OUT !
******************************************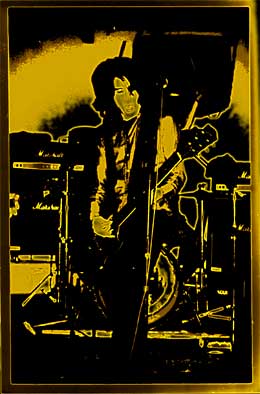 **************
LO' SPIDER

Photos by Aiki in Villadiego
**************
******************************************
We 'd like to thank all the people that came see us, and especially, Verdu and the Zaragoza crew, Norah and the Rock Palace people, the Groovie Choulies, Belén & Las Tumbitas, Alberto "El beasto", Ruben and the Mardi Gras people, Xabi, Mikel & Señor No, Carlos, the Stinkiss, the Gasteiz crew and... Youn.
Extra special thanks to Ikerne.
******************************************
**************
MARS

Photos by Aiki in Villadiego
**************
* 29.10 *********************** MADRID - Day Off ***
We cook some french meal for our hosts and decide to go see El señor Turmix (Safety Pin rds maestro). Kike's back home today after 15 days in a hospital for a heart attack. He looks great with a strong mental even if he knows that his life will never be the same again. We listen to a demo version of the next Gluecifer album... Waowww ! A killer, their best stuff in my opinion.
Hey, it's already time to have a drink, we go to the Rock Palace to meet our friends from Sin City 6. We talk about how is going their last album (great !) and their forthcoming recording (in a few months).
We go now for a tapas meal -fried chicken, boquerrones, calamares, potatoes a la brava- in one of the best bar of the city. Last drink & sleep.
******************************************
**************
MIGHTY YO

Photos by Aiki in Villadiego
**************
*
31.10
******************** A CORUÑA
-
Mardi Gras
***
Galicia is such an amazing place ! Eucalyptus forests, mountains that dives in the sea, rainy weather... While Vigo is a student and services city, A Coruña is more a fisher town (but a big one !).
We play at the Mardi Gras which is a great middle-sized venue, with an old Louisiana style. The fake crocodile in the entry put you directly in the mood. Tonight there's a small audience but we do it very hard and tight. Last time we played here we where a lil'bit disenchanted after a 1200km drive and some technical problems. But tonight everything rolls ! Alberto from El Beasto Recordings (check-out the new Burnouts 10") is here... And it's preferable as we sleep at his house ! He leads us to the Crapula bar where there's a big Halloween fiesta. I understand now where they all were ! The music is great (thank you for the Modern Lovers girls !), everybody has fun and the dealer we met a short later is even here... He's got his coke in one hand and a credit card in the other and offer a sniff to anybody. CRAZY !!!
Oh I forgot to tell you about the meals... Should I ? YES ! Spanish tapas for lunch (tortillas and fabulous mushrooms with cream) and typical galician cooking for dinner, have you ever eaten octopus ? DELICIOUS !
******************************************
*
01.11
******************** VILLADIEGO
-
Gloria
***
After a short night we take the road to a village near Burgos. The road bords the Compostella lane which is a cult trip for the christians. We stop at a crossroad and do our usual pagan prayer... pissing on a cross ! But the temperature decreases dangerously... don't need no thermometer to measure it ! 1°celsius when we arrive in Villadiego. It's not really a rock & roll town. Just a rural village with the church in its center.
No feeling ? Not really, we are happy to play with the Groovie Ghoulies. Even if we know they are kinda straight concerning alcohol, meat and drugs, they are very nice people, very fun... We booked them in Toulouse, two years ago and we got great memories of that night. Before the soundcheck we go to the hotel (one of the first bed of the tour)... great décoration, with a jesus representation in every rooms...It's cool to have a little rest !
Everybody takes his time to phone home, speak quietly and I try to take notes while my eyes try to shut. Time for dinner. The promoter arrives with 3 different qualities of local wine, 3 qualities of chorizo, sheep cheese and tortillas... Everybody's happy and we even have our special dessert that we take in a freezing van.
We play a great show in front of the local rednecks who are enthusiastic, screaming "DE PUTA MADRE, CON 2 COJONES". After, the Ghoulies are way more fun than in Vigo (do I tell you that Mr. asshole didn't pay the meal, nor the drinkings, nor the hotel to the GG the other day ? He's now Mr fuckin' asshole !). The sound is excellent and they decide to do a special thursday-night-dance-party-encore. All the place shake its ass, the sweat flows from the roof... Yeahhhhh ! We try to improve our spanglish talking with the local bunch, and we make our recommandations to the Groovie Ghoulies before they hit France.
No "after" tonight, but it's already 3am and we are tired.
I forgot to tell you about an interview I had by phone earlier on the road. It was with a radio from Andalucia (the south of Spain), and it was really special as the guy from the radio asked his question in spanish, a girl translated it in english, I answered in english -while I'm french- and she translated it to the guy...
I understood that half of what I said was not translated as the bands name...
But they seemed happy... and so am I afterall !
******************************************
*
02.11
***************** SAN SEBASTIAN
-
Bukowsky
***
Today we'll arrive in Basque Country, one of the wildest region of Spain in terms of Rock & roll. Many of the most interesting bands come from here (Señor No, Nuevo Catechismo Catholico, Teen Dogs, Vincent Von Reverb...). It's also Aiky's country and she's really excited to come back here and see her friends. We see Francia sign, but we know it's not time yet to go... and we don't want to !
The Bukowsky is a small bar in San Sebastian and I think they try to put the music in relation with their name (from Dylan to Capt. Beefheart).
Another problem tonight (there's not been so many as you could see !), is there's no PA system. Fortunately our friend from Señor No lend us theirs.
We play early tonight as the bar got troubles with the neighborhood. Good concert but a freezing audience... "not freezing, impressed" somebody tell me. I'm glad ! We have plenty of time now to party, and it's the week-end.
We begin with another concert in a hard-rock-bikers bar. The Discipulos de Dionisos, play fast punk tunes somewhere near Zeke or so, with an impressive lead guitar and -somebody tell me- sexual-hilarious lyrics in spanish. But after seing 4 songs, the cops stop the show.
Dr Verdu (remember Zaragoza) is here and he decides to take care of our nostrils... After that we go to a bar, then another, and another....................
But I don't remember as I take too many pills... not to remember !!! Ughhh ! !
******************************************